When you think of the best spots to go adventuring you may think of incredible mountain ranges, crystal clear waterfalls, roaring rapids, etc. Unfortunately for us down here in the deep south, the closest we can see to a mountain is the curb on the side of the road. For those of you wanting to get outside and enjoy nature without having to go 8+ hours away, we've put together 5 amazing places to explore that are a bit closer to home!
Providence Canyon
Located just outside Columbus, GA you can find Providence Canyon. This small ravine was formed due to improper irrigation practices, and you'll easily spend an entire day wandering around the 9 different canyons! With over 9 miles of trails to hike, back-country camping, and even some old abandoned cars to check out about halfway down the main trail, there will be plenty to explore here at Georgia's "Little Grand Canyon".
St. Marks Wildlife Refuge
Maybe you're in the mood for a more coastal kind of adventure. The St. Marks Wildlife Refuge, located in the panhandle of Florida just south of Tallahassee, is the place for you! There are many great hiking trails in the refuge but some of our favorite spots include the St. Marks Lighthouse, the Cathedral of Palms trail, and the Levee trail.
The refuge was established in 1931 to preserve the habitat for many migratory birds, as well as being a stop for the migratory Monarch Butterflies as they make their way to Mexico in the fall. Needless to say you can expect to find a wide variety of wildlife living here.
Reed Bingham State Park
This 1,613 acre state park located in Adel, GA (30 minutes north of Valdosta) is a wonderful spot to come for bird watching and checking out an incredibly diverse habitat of plant life. Here you can see many different birds including egret, osprey, red-winged blackbird, and the occasional bald eagle if you're lucky! Along side those there are gopher tortoises, indigo snakes, and even the occasional alligator. Just be sure to give a wide radius to any you happen to come across!
As well as a diverse ecosystem, there are 7 miles of hiking trails throughout the park, like the mile long Little River trail or the Bird walk trail. The 375 acre lake is plenty big enough to spend some time boating, kayaking, or to just enjoy the day fishing!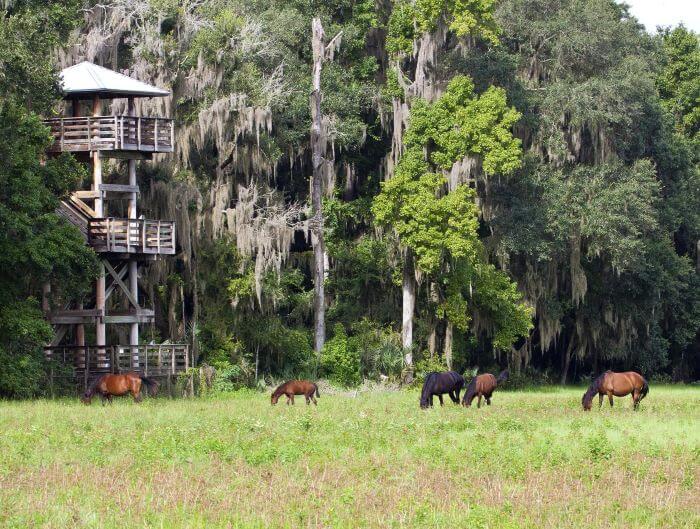 Payne's Prairie Preserve State Park
Looking for a truly unique wildlife experience? Payne's Prairie may just be the park for you. This 23,000 acre preserve is just outside Gainesville, FL where you'll find over 300 species of birds, alligator, deer, etc. Oh, and did we mention the wild bison and horses?
Outside of the amazing wildlife views, there is plenty of exploring to be had here with 30 miles worth of trails, including the 16 mile Gainesville-Hawthorne State Trail. The park offers more than enough activities such as horseback riding, fishing, biking, camping (even equestrian camping!), paddling, and more. We would definitely recommend planning an overnight trip here just to experience everything this amazing park has to offer!
Cumberland Island State Park
This park is one that is rich with history to discover. From the massive Dungeoness ruins which was a hunting lodge turned mansion, to the first African-American baptist church. There are so many amazing historical sites to explore here!
The only way to reach the Island is by taking a ferry, or by private boat (so long as the vessel is under 25 feet long). Once you do get there, you are free to explore the 50 miles of trails across the entire 11,000 acre island. Back-country camping is allowed here as well, provided you get the proper reservations to leave a boat over night at the island. Along with hiking, boating, fishing, and learning the history of the island, you can also take part in managed hunts as well!
Be sure to check out the park website for all the info you'll need to know before heading out to this one. It may require a little more preparation with reservations, but once you get there, it will be well worth the extra planning!